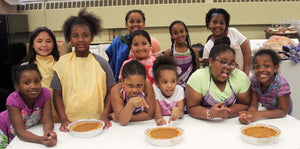 Lights, Camera, Action and now we enter the world of culinary arts @ Family Focus Evanston. Some of us are novices while others walk around with chef kits, monogramed aprons and candy thermometers. They only thing in common is our shoe sizes, smiles, lack of desire to wash dishes, our constant wantingness (made up word) to lick the bowl, spatula, and our eagerness to create edible magic art. We come together weekly and now, invite you into our world, E N J O Y!  
---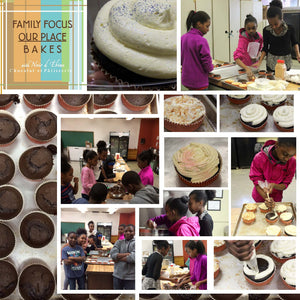 I wore pig tails, played hide-n-seek, jumped double dutch, danced in the talent show and felt safe, secure and loved while attending Family Focus Community Center Evanston.  I was in grade school and my only responsibility was homework and Saturday chores.  How simple my life was back then.  Only if I now could find a time machine.  I guess I have found one of sorts as I am now an adult sharing my love and gift of pastries, chocolates and confections to small children that once looked like me at Family Focus Community Center Evanston.   Three girls showed up,...
---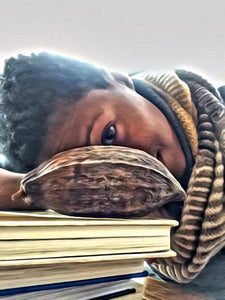 Question:What's that in the picture?Answer:It's the beginning to happiness and pleasure that will certainly inspire ones mouth to part with a smile. It's a CACAO POD. It gives life to the many cacao beans inside it, that, with other ingredients will turn into CHOCOLATE, sweet, bitter or rich, chocolate. Yes, we make chocolate from scratch!    
---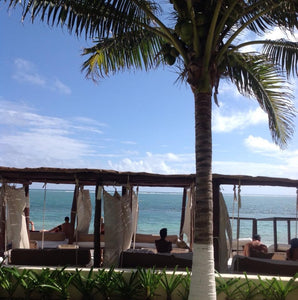 I love being an artist, rather making furniture, drawing, dancing, photography, writing poetry or being in the kitchen baking or making chocolate from imported cacao beans. I am happiest when I create and have an audience to share with. 2016 is joyfully arriving and with it our, a. Corporate Catering Lunch Boxesb. Sunday Piesc. Monthly Chocolate Clubd. French Macaron of the Month e. Wholesale Menuf. Baking & Chocolates Classes for children Thank you for being a part of a successful 2015. Our eyes are wide as we prepare for a triumphant 2016. Team Noir d'Ebene,Choose Happy  
---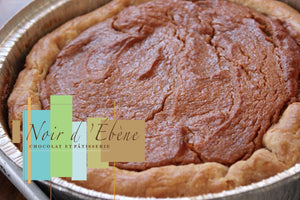 Not many of us can remember a time when the Southern Sweet Potato Pie was not adorning our holiday table.  Poor or rich, the dessert table held in aluminum pan holding perfectly made pie crust with the prettiest orange custard in the center.  If you were lucky an elder person made your pie crust from scratch and your home was filled with the scent of history and love.  Children, both boys and girls watched as sweet potatoes were brought from the field, washed and cleaned, peeled, boiled or baked.  Eyes wide, potatoes were smashed and lovingly mixed with sugar, spices,...